Some of my favourite photos by Mark Segal:
I love the simplicity of this photograph, yet the styling is complicated in textures, colours and layers.
Again the simplicity in both the make up and composition, yet still a striking shot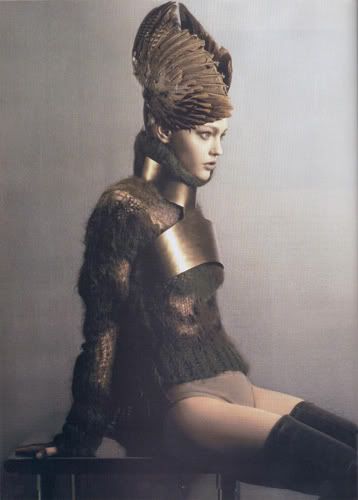 I really like his colour palette, his photographs are murky and desaturated, i prefer this to bold bright colours, where it's not so much the colour that is drawing in the attention of the viewer but the striking composition, lighting, make up or model.
Segal often uses wild animals within his images. I think this is a really interesting mix, as it adds a dynamic to his shots and defiantly makes them more interesting, even if you are cooing over the cubs.
Sasha Pivovarova by Mark Segal for Vogue Paris Decem 2007/Jan 2008. The knitted loose cardigans by Rodarte add a subtle dash of colour within this white shoot. And the little white lion cub is the most adorable addition :)